Novel Coronavirus (COVID-19) Update
LATEST UPDATES FOR THE WEEK OF 21-28 FEBRUARY
The outbreak of COVID-19 has now reached a global dimension as it has seen a significant increase in cases outside of China over the last week, with significant local outbreaks reported in South Korea, Japan, Iran and Italy.
Defer non-essential travel to China and Iran until further notice.
Travellers to South Korea should reconsider their need to travel due to widespread community transmission.
Travellers to Japan or Italy should exercise caution if travelling to affected areas of the country.
Travellers should note that older adults or travellers with chronic medical conditions are more vulnerable to the virus and should be postponing nonessential travel to any of the destinations above. Before travelling to an affected area, travellers should monitor the latest directives from international health authorities and verify their insurance coverage carefully. Travellers on an essential visit should liaise with their consular authorities, reduce the length to their stay to a minimum, and make contingency plans for evacuation. Travellers should note that lockdown measures could be introduced at a very short notice in areas with sustained number of infections, and if there are any indications that such measures could be introduced, they should leave the location while they still can. All travellers should exercise adequate health measures, including maintaining social distancing, washing hands frequently, avoiding, touching eyes, nose and mouth, and practicing respiratory hygiene; travellers should monitor any flu-like symptoms that could appear up to 14 days after infection.
Significant uptick in confirmed cases and fatalities in Italy
Authorities confirmed new cases of the novel coronavirus (COVID-19) in several regions, bringing the death toll to at least 29, as the number of confirmed infections rose to at least 1,128 across 13 regions, with Lombardy, Veneto and Emilia-Romagna the worst-affected. 11 towns in Lombardy and Veneto regions have been in lockdown since 23 February in order to contain any further spread of the virus.
Iranian officials attempt to limit the outbreak's spread
Public health officials in Iran cancelled classes at schools and universities as well as suspended Friday prayers in Tehran and 22 other cities to try to limit the spread of the outbreak; at least 593 cases of COVID-19 and 43 associated fatalities were recorded nationwide as of 29 February. Restrictions on public gatherings and travel are in place in Qom province, the epicentre of the outbreak, while individuals with suspected and confirmed cases of COVID-19 are subject to domestic travel restrictions and 14-day quarantine procedures nationwide.
Regional impact of Italy's and Iran's cases:
 according to the World Health Organisation (WHO) at least 14 countries reported cases exported from Italy, while another 11 countries reported cases exported from Iran during the week, triggering travel restrictions for travellers from both countries, by both land and air.
South Korea reports more daily cases than mainland China
Authorities confirmed 571 new COVID-19 cases on 28 February, bringing the total number of infections to 2,337, which included 16 deaths. The worst-affected areas are Daegu and North Gyeongsang province, where "special care zones" were declared in Daegu and Cheongdo, with residents advised to remain indoors to limit the spread of the disease.
First cases confirmed in Latin America
Public health officials in Brazil announced the first case of the COVID-19 in a 61-year-old man in São Paulo on 26 February, Mexican health officials confirmed that a 35-year-old man tested positive for the COVID-19 infection in Mexico City on 28 February and Ecuadorian doctors confirmed the country's first case on 29 February in a 70-year-old resident who recently returned from Spain.
Coronavirus continues to spread within the United States
Centers for Disease Control (CDC) officials in the US announced that public health authorities expect that the outbreak, which has largely been contained among returning travellers and members of their immediate families, will spread. Cases of community spread, unconnected to foreign travel, were reported in California, Oregon and Washington states as of 29 February; travel bans are in place for China and Iran.
Cumulative Confirmed Cases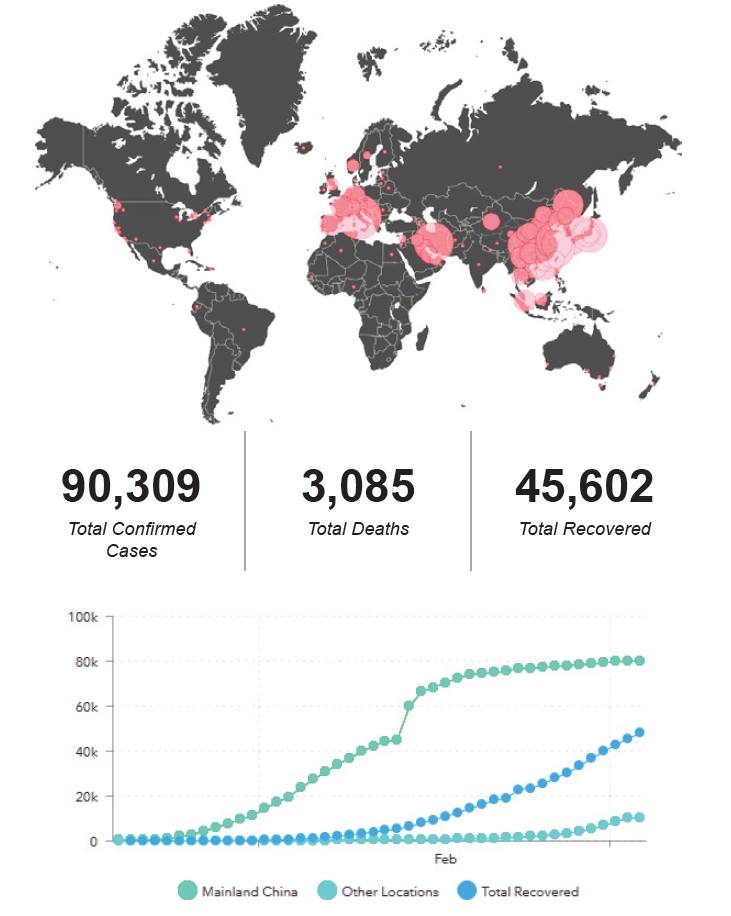 90,309 Total Confirmed Cases
by Country/Region
80,026 Mainland China
4,335 South Korea
2,036 Italy
1,501 Iran
705 Others
274 Japan
191 France
159 Germany
120 Spain
108 Singapore
101 US
98 Hong Kong
56 Kuwait
49 Bahrain
43 Thailand
42 Switzerland
41 Taiwan
40 UK
30 Australia
29 Malaysia
27 Canada
26 Iraq
25 Norway
21 United Arab Emirates
18 Netherlands

18 Austria
16 Vietnam
15 Sweden
13 Lebanon
10 Israel
10 Macau
8 Belgium
8 San Marino
7 Croatia
7 Greece
6 Ecuador
6 Iceland
6 Oman
6 Finland
5 Mexico
5 India
4 Denmark
4 Pakistan
3 Qatar
3 Czech Republic
3 Georgia
3 Algeria
3 Philippines
3 Russia
3 Romania

3 Azerbaijan
2 Indonesia
2 Brazil
2 Portugal
2 Egypt
1 Afghanistan
1 Nepal
1 Lithuania
1 Cambodia
1 Andorra
1 Ireland
1 Nigeria
1 Senegal
1 Armenia
1 Dominican Republic
1 Estonia
1 North Macedonia
1 Morocco
1 Luxembourg
1 Monaco
1 Belarus
1 New Zealand
1 Latvia
1 Sri Lanka
3,085 Total Deaths
by Country/Region
2,803 Hubei Mainland China
66 Iran
52 Italy
28 South Korea
22 Henan Mainland China
13 Heilongjiang Mainland China
8 Beijing Mainland China
7 Guangdong Mainland China
6 Japan
6 Anhui Mainland China
6 Chongqing Mainland China
6 Hebei Mainland China
6 Shandong Mainland China

6 "Diamond Princess" cruise ship Others
5 Hainan Mainland China
5 King County, WA US
4 Hunan Mainland China
3 France
3 Shanghai Mainland China
3 Sichuan Mainland China
3 Tianjin Mainland China
3 Xinjiang Mainland China
2 Hong Kong Hong Kong
2 Gansu Mainland China
2 Guangxi Mainland China
2 Guizhou Mainland China

2 Yunnan Mainland China
1 Western Australia Australia
1 Fujian Mainland China
1 Jiangxi Mainland China
1 Jilin Mainland China
1 Liaoning Mainland China
1 Shaanxi Mainland China
1 Zhejiang Mainland China
1 Philippines
1 Taiwan Taiwan
1 Thailand
1 Snohomish County, WA US
45,602 Total Recovered
by Country/Region
33,934 Hubei Mainland China
1,205 Henan Mainland China
1,069 Zhejiang Mainland China
1,059 Guangdong Mainland China
917 Anhui Mainland China
887 Hunan Mainland China
850 Jiangxi Mainland China
543 Jiangsu Mainland China
469 Chongqing Mainland China
460 Shandong Mainland China
386 Sichuan Mainland China
356 Heilongjiang Mainland China
296 Hebei Mainland China
292 Shanghai Mainland China
291 Iran
282 Beijing Mainland China
255 Fujian Mainland China
216 Shaanxi Mainland China
192 Guangxi Mainland China
168 Yunnan Mainland China
151 Hainan Mainland China
149 Italy
119 Shanxi Mainland China
114 Guizhou Mainland China

111 Tianjin Mainland China
103 Liaoning Mainland China
85 Gansu Mainland China
83 Jilin Mainland China
78 Singapore
69 Ningxia Mainland China
66 Xinjiang Mainland China
54 Inner Mongolia Mainland China
36 Hong Kong Hong Kong
32 Japan
31 Thailand
30 South Korea
18 Qinghai Mainland China
18 Malaysia
16 Germany
16 Vietnam
12 France
12 Taiwan Taiwan
10 "Diamond Princess" cruise ship Others
8 Macau Macau
8 UK
5 United Arab Emirates
4 New South Wales Australia
4 Victoria Australia

3 British Columbia Canada
3 India
2 South Australia Australia
2 Toronto, ON Canada
2 Russia
2 Spain
2 Cook County, IL US
1 Queensland Australia
1 Belgium
1 Cambodia
1 London, ON Canada
1 Egypt
1 Finland
1 Israel
1 Tibet Mainland China
1 Nepal
1 Oman
1 Philippines
1 Sri Lanka
1 Boston, MA US
1 King County, WA US
1 San Diego County, CA US
1 Santa Clara, CA US
1 Tempe, AZ US
As of 3/2/2020, 4:13:08 PM
Source : Coronavirus COVID-19 Global Cases by Johns Hopkins CSSE