Celebrate Your Identity with LGBTQ+ Travel to Italy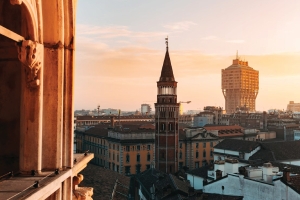 Be Proud of Who You Are as an LGBTQ+ Traveler Visiting Milan 
LGBTQ+ travelers are likely to be pleased with the "vibe" that Milan offers travelers from all corners of the globe. Milan is well-known as a welcoming and vibrant travel destination that celebrates LGBTQ+ culture with incredible rustic beauty that anyone will appreciate. A city that has been destroyed and rebuilt countless times across history, there is surely something for everyone in Milan.
Many LGBTQ+ travelers report the neighborhood of Via Sammartini as the "heart" of gay culture in Italy. Visitors will be happy to know that the entire city is welcoming to LGBTQ+ visitors who wish to indulge in food, drink, and nightlife. The city itself boasts incredible public transit that is perfect for anyone looking to bar hop or take in the sights at one of the city's many stunning churches and cathedrals.
LGBTQ+ Travel in Milan: Shopping and Fashion
Fashion and style are paramount in Milan, with luxury shopping options that attract tens of thousands of international travelers each year. The local Milanos have a reputation for incredible style, taking great pride in their appearance by sporting fashion brands fit for royalty.
For those looking to peruse through the overwhelming number of unique Italian designer brands and styles, head to Via Monte Napoleone in the city's ​​Quadrilatero d'Oro​​. This neighborhood is great for shopping and dining or can be a unique opportunity to window shop or mingle with the locals.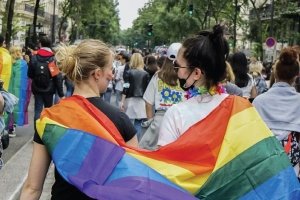 LGBTQ+ Travel in Milan: LGBTQ+ Events
Milan has become a hub for LGBTQ+ businesses to mingle with each other. The LGBTQ+ Travel Association (IGLTA) has chosen Milan as the home of their upcoming conference next fall, helping businesses and travelers embrace equality and diversity within the travel and hospitality industry.
The city itself has been a longtime host of the Milano Pride Parade, which might be the largest celebration of LGBTQ+ in the world. For Pride Week in Milan, one of the city's oldest and most culturally significant neighborhoods, Porta Venezia, is turned into Pride Square, where LGBTQ+ vendors and allies set up shop to sell food and drinks, supplemented with local LGBTQ+ musicians.
LGBTQ+ Travel in Milan: Bars, Food, Dining and More
Milan's food and dining scene is so incredibly vast that travelers will have no shortage of options. Many cafes and restaurants in Milan are LGBTQ+ friendly, offering multi-course lunches and dinners. Bar Bianco is notably LGBTQ+ friendly, serving up fresh pasta and cured meats. Little Italy is a great LGBTQ+ friendly pizzeria serving up decadent desserts and fresh pizza slices.
LGBTQ+ community members will quickly find out that there are no shortages of bars and nightclubs across the city, but a few that stand out from the crowd. Alcatraz is widely known as the ultimate spot for all-night dance parties, while Glitter CLUB is the perfect party spot welcoming LGBTQ+ travelers and allies every weekend.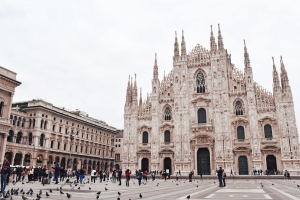 LGBTQ+ Travel in Milan: Day Trips You Can't-Miss Out On
With Milan being the center of northern Italy, there are a great number of day trips available to LGBTQ+ tourists who wish to experience a little more of Italy. Bergamo is very close by and is a small city steeped with rich Italian history with stone walkways that is a joy to explore. Lake Como is remarkably scenic and is accessible with a short 30-minute train ride, while the beautiful city of Turin is also just one hour away by train.
LGBTQ+ Travel with CAP, Powered by FocusPoint
The
LGBTQ+ travel
community should take every precaution during international travel, as these travelers often face unique risks that shouldn't be ignored.
FocusPoint International's CAP Travel Medical and Security Assistance Plan comes with a robust mobile app that includes destination-based health, safety, and security intelligence, COVID-19 specific information, a one-touch assistance button, and much, much more.
The CAP Plan includes unlimited 24/7 advice for a long list of travel mishaps often overlooked by traditional travel insurance, including COVID quarantine cost coverage. It also provides a fully-funded response to incidents of riots, strikes, and civil commotion, natural disasters, with medical evacuation to a home hospital of choice, should you suffer from a medical mishap resulting in hospitalization.
Contact us directly to learn more about available travel products tailored towards the needs of LGBTQ+ travelers.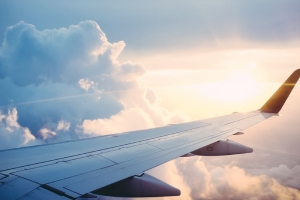 LGBTQ+ Travel with CAP, Powered by FocusPoint
FocusPoint International has partnered with
IGLTA
(International LGBTQ+ Travel Association) to offer the
CAP Travel Medical and Security Assistance Plan
. The IGLTA website is an exceptional resource for LGBTQ+ travelers that can identify travel advisors and providers that are LGBTQ+ welcoming. View the
LGBTQ+ Safety and Travel Guide
on the ILGTA website.