Senior Travel Makes Sense with the Right Travel Precautions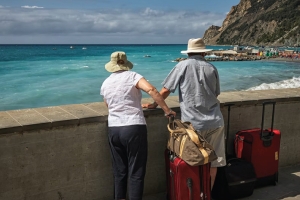 Senior Travel Simplified with Travel Tips That Make a Difference
Many senior travelers are eager to get out of town and experience warmer weather in 2022. While there are many challenges facing international travel today, it is possible to safely travel to sunshine destinations with a little extra planning. Before you head off into the sunset, use these tips that can help make your
vacation travel
simple and mishap-free. Planning ahead can be a difference-maker between a voyage of relaxation and a stressful trip.
Are you prepared?
Senior Travel: 8 Quick Tips for the Elderly Who Travel Internationally
Use these quick tips to ensure that your leisure travel is as safe as possible in 2022.
Vaccinations: Ensure they are up-to-date and in line with any and all land and air travel requirements.
Medications: Keep important medications as carry-on luggage in their original containers. Never risk losing necessary medication by leaving it in checked baggage.
Documentation: Request documentation or summaries of your health conditions on paper from your doctor. In the event you are hospitalized, you can pass along this information to healthcare professionals with ease.
Keep Moving: Long flights or train trips can promote blood clots. Get up, stretch and take a break from sitting by walking up and down the aisles.
Hand Washing: Remain diligent and regularly wash your hands, especially when you interact with high-touch surfaces such as railings, debit pads, and door handles. Bring along hand sanitizer so you can clean your hands wherever you are.
Avoid Dehydration: Long trips can leave seniors prone to dehydration, so bring along extra bottled water or a refillable water bottle.
Watch What You Eat: Play it safe and stick to fresh food, including lots of fruits and vegetables, so your digestive system doesn't disagree with the local .
Purchase CAP: FocusPoint International's CAP Travel Medical and Security Assistance Plan is the perfect complement to any existing travel insurance policy and can help you address complicated medical mishaps during international travel. Cover all your bases and purchase a travel plan that speaks to the needs of seniors and offers hospital-to-hospital transfers. Traditional travel insurance policies often overlook this service.
8 Questions Answered Regarding International Senior Travel
Find answers to the most common questions regarding senior international travel in 2022.
1. How Can Seniors Acquire a COVID Test During International Travel?
Oftentimes, a specific COVID test is required for air travel in North America or abroad. Appropriate COVID testing can be difficult to obtain in a foreign country and should be researched well before you leave. Ensure that you can easily receive a proper COVID test so you can return home without any issues.
2. Should I Consult My Doctor Before Traveling Internationally?
Yes. Senior travelers with underlying health conditions should inquire with their doctor regarding whether it is the right time to travel. Your family doctor can help you make these decisions and offer you important advice for your trip.
3. Are All-Inclusive Resorts Safe to Visit?
Yes, but take necessary precautions. Face mask use, social distancing, vaccinations, and regular hand washing can help slow the spread of COVID-19. Remain diligent and avoid close contact with other people when possible.
4. Is Cruise Travel Safe for Seniors?
Cruise travel can be safe with the right precautions including social distancing, face mask use, proper hand washing, and up-to-date vaccinations.
5. How Much Medication Should I Bring During My Trip?
Seniors are encouraged to bring extra medication during their trip, along with complete documentation of their health conditions. Consider making a list of your prescriptions and their generic and official names, as they might be branded differently in foreign countries if you need to acquire more during travel.
6. Will My Travel Insurance Cover Me if I Catch COVID?
Should you contract COVID-19 during travel, your travel insurance policy may only offer limited coverage and likely on a reimbursement basis. Furthermore, traditional travel insurance policies may not cover COVID quarantines, hospital transfers, or flights home to your hospital of choice. Further, seniors should pay close attention to the fine print of their
travel insurance
policies to understand the many exemptions for those traveling over the age of 65.
7. Is Solo Senior Travel Safe in 2022?
Yes. With the right precautions. Package and group travel are available to many seniors. It is a great way to bring together like-minded individuals and allow solo senior travelers to socialize with one another.
8. Is it Safe for Snowbirds and Seniors to Travel South?
Yes, but seniors are encouraged to take extra precautions to ensure their safety.
Land and air travel can be highly complicated, especially when crossing into foreign countries. COVID case numbers in your destination can prompt unexpected restrictions and required quarantines. Keep a close eye on your destination's local news and plan ahead for disruptions by booking flights and hotels that come with flexible cancelation policies.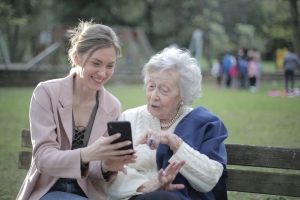 Safe International Senior Travel Assistance with CAP, Powered by FocusPoint International
International senior travel is safe but take extra precautions to ensure you focus on the enjoyment of your trip rather than the many complications that can arise along the way.
FocusPoint International's
CAP Travel Medical and Security Assistance Plan
comes with a robust mobile app that includes destination-based health, safety, and security intelligence, COVID-19 specific information, a one-touch assistance button, and much, much more.
The CAP Plan offers unlimited 24/7 advice for a long list of travel mishaps often overlooked by traditional travel insurance, including
COVID quarantine cost coverage
. It also provides a fully-funded response to incidents of riots, strikes, and civil commotion, natural disasters, with medical evacuation to a home hospital of choice, should you suffer from a medical mishap resulting in hospitalization. And, new in 2022, the
CAP Travel Medical and Security Assistance Plan
now offers fully funded return of vehicle should you be medically evacuated to home hospital and have to leave your vehicle (owned or hired) behind.
Contact us to learn more about available products tailored directly to the needs of senior travelers.