Nice, France Embraces LGBTQ Travelers from Across the World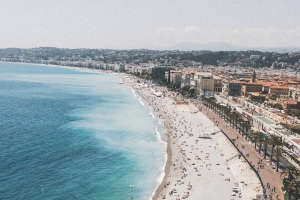 LGBTQ+ Travelers Should Be Looking to Visit Nice This Summer
Nice, France has been a long-overlooked hotspot for gay, lesbian, and
LGBTQ travel
. The Mediterranean vibe of this destination is a hidden gem and is often considered one of the most gay-friendly destinations in Europe. For any LGBTQ+ looking to make the most of their first vacation post-COVID, Nice is set to be one of the best destinations to visit this summer and fall.
With the announcement that travel restrictions for vaccinated Americans will be eased in June, gay travelers should consider heading to Nice, France, to experience sun, sand, and incredible French culture all in one place.
LGBTQ+ Travel: Gay-Friendly Beaches in Nice, France
Nice offers stunning beaches along the coast of the Bay of Angels that are sure to please any traveler, gay or straight. The city itself has multiple beaches with both quiet and party atmospheres that are a thrill to explore during the summer months. Some beaches are just a short drive along the coastline and make for the perfect day trip.
See below for our top beach destinations in Nice.
Hi Beach
is a very popular beach suitable for singles and families and is divided accordingly into separate parts. Here you can mingle with other gay vacationers, enjoy a wide variety of bars, restaurants, and take part in some reservable seating that can be booked in advance and even comes with Wi-Fi.
Coco Beach
is one of the city's most popular public nude beaches and is a popular hotspot for gay travelers. It's just a short walk east of the Port of Nice and offers chill vibes for anyone looking to relax in the sun.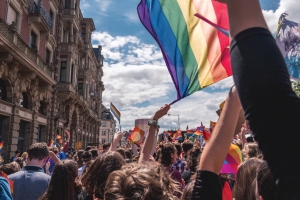 St. Laurent-Eze
is widely considered Nice's best and busiest nude beach and is just a short drive east of the city's downtown core. The beach's pebble facade is a unique experience that is not as busy as some other beaches around the city. Enjoy a day trip to this beach and dip your toes into something a little different.
LGBTQ+ Travel and Gay-Friendly Nightlife in Nice, France
The neighborhoods of Old Nice and Jean-Médecin are home to some of the world's best gay bars and are reason enough to visit this incredible city. Head out for a night of fun and dancing with French locals. Attitudes towards LGBTQ+ travelers are very positive, and travelers should have little to no concern from the public.
Le Six
has multiple floors of dancing, designated smoking rooms, and is known to stay open until the early morning hours. Head out to this bar for all-night dancing with gay locals and travelers alike.
Le Glam
is widely considered the best gay bar and club within Nice. It has incredible food and drinks, with top-40 dance music being blasted late into the night. This is the pinnacle of nightlife in Nice, and maybe even France.
Coco Vin
offers a balance of great music, drink, and atmosphere, gaining a reputation for affordability and exceptional service. With a more relaxed tone and vibe, this bar is considered a chill spot with an incredible street view of the neighborhood.
LGBTQ+ Travel: Explore Nice and Appreciate This City's Stunning Architecture
If the beaches, bars, and restaurants weren't enough reason to visit Nice, the city itself is rich with history reflected in its scenic architecture. Nice is the perfect location to get lost in and take in some of the city's incredible culture, with buildings that are exclusive to Nice and intended to reflect an "art deco style."
Le Vieux Port
is one of the city's most photographed locations, reflecting the city's iconic red rooftops and exceptional style. With charming buildings circling the harbor, this destination is a must-visit and the perfect photo opportunity for any traveler.
The
Notre-Dame de l'Assomption Basilica
offers a new take on gothic churches found around France, with incredible stained-glass artistry that rivals some of the most iconic churches in Europe. At night, this church is lit up in colors that reflect the gay-friendly culture of the neighborhood.
La Place Masséna
is the city-center red painted square that is home to multiple art installations, including sculptures from Spanish artist Jaume Plensa. This neighborhood is known for its small local festivals and carnival atmosphere and is considered a great meeting place or spot to mingle with locals.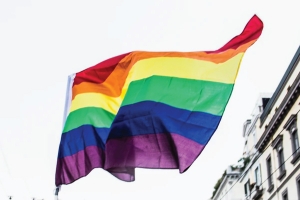 LGBTQ+ Travel With CAP, Powered by FocusPoint
The COVID-19 pandemic has challenged many travelers, and variants could still pose risks to gay travelers visiting Europe. Lockdowns and border closures can happen quickly, with remaining high levels of uncertainty during the upcoming travel season.
Before you go, consider purchasing a travel product that goes far beyond traditional travel insurance and speaks to the needs of gay travelers across the world.
FocusPoint International's CAP plan includes unlimited 24/7 advice for a long list of travel mishaps often overlooked by traditional travel insurance. CAP also provides a fully-funded response to incidents of riots, strikes, and civil commotion, natural disasters, with medical evacuation to a home hospital of choice, should you suffer from a medical mishap resulting in hospitalization.
Contact us directly to learn more about available
leisure travel
solutions tailored to the needs of gay travelers and navigate any travel complication this summer.
LGBTQ+ Travel With CAP, Powered by FocusPoint
FocusPoint International has partnered with
IGLTA
(International LGBTQ+ Travel Association) to offer a CAP Medical and Security Travel Assist Plan to the attendees of the upcoming IGLTA convention. The
IGLTA website
is an exceptional resource for LGBTQ+ travelers that can identify travel advisors and providers that are LGBTQ+ welcoming.
The IGLTA Global Convention is the world's premier educational and networking travel trade event for LGBTQ+ tourism professionals and allies. In addition to being the world's largest LGBTQ+ travel trade convention, it is also the longest-running of its kind (the first edition was held in San Francisco in 1984). For more information visit
igltaconvention.org
.