European Rail Travel Getaways Every North American Should Partake In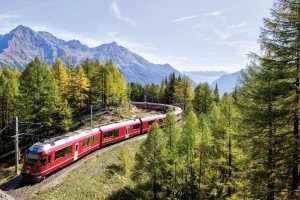 Rail Travel Offers Affordability and Eco-Friendly Travel Options
Rail travel continues to trend as one of the best ways to experience Europe in a post-pandemic era. It offers endless ecological benefits while helping travelers maintain space and privacy. Busy airports and packed flights might not be as appealing as they once were, especially when rail travel brings affordability and a touch of luxury to international travel. As
leisure travelers
from North America seek different offerings, rail travel is poised to be a hit with consumers in 2022.
Many European countries are slowly fighting climate change by encouraging visitors and local Europeans to skip out on short-haul flights and book their travel by rail. It's estimated that rail journeys longer than two hours are 20 times more fuel-efficient than a short-haul flight. Even overnight trains are becoming more popular, with affordable prices being offered to consumers in an effort to reinvigorate Europe's extensive rail system.
Consider seeing Europe a little differently with the many rail service offerings available that can put any leisure traveler on the right track towards the perfect holiday.
Rail Travel in Europe and What to Expect
Trains are so much more common and affordable in Europe that most of the continent relies on them for commuting to work and domestic travel.
Not every train in Europe is the same, so book your trip accordingly.
High-speed trains are the best way to get across Europe in a short period of time. These trains have simple amenities but are comfortable and more spacious than any bus service available. While these train rides may come at a higher price, they are the most efficient way for leisure travelers to experience Europe.
Night trains are great for budget-conscious travelers who want to save precious time by traveling as they sleep. However, these trains aren't for everyone as some people prefer the accommodations of a hotel or hostel. But truthfully, these train rides are surging in popularity post-pandemic and are a unique way to explore Europe with time constraints.
Regional trains in Europe are slower moving and are typically used by locals to commute across their city. They do not require any sort of reservation but have limited amenities. These regional trains often connect with local subway systems and airports and can get you across town fairly quickly.
Scenic trains are perfect for those who don't mind traveling at a slower pace while appreciating the beauty of Europe. Accommodations on these types of trains continue to evolve with dining and luxury options that dazzle. Experience a scenic train with a dining car or kick back and relax.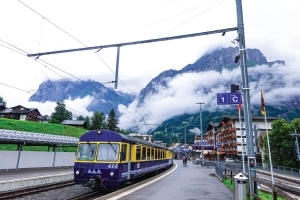 Rail Travel Passes Across Europe; Are They Worth It?
With borderless travel in Europe, there is no reason to stick to visiting just one country. For people who simply can't stay in one place or want to see it all, there are multitudes of different Eurail passes, such as ten-day trips or two months of unlimited rail passes.
These passes are the perfect idea for leisure travelers looking for more flexibility from their travel arrangements, allowing you to hop on a train and cross international borders on a whim. Consider planning a trip that starts in the heart of Portugal and then takes you into the depths of Northern Sweden. Or explore Spain, the islands of Greece, or slow down and enjoy yourself in Amsterdam.
These passes offer incredible flexibility but may not fit into the budget of all travelers. Should you only require one or two rail trips during your vacation, stick to booking individual tickets. But for those with a little extra time and funds available, these rail passes can make your European destination into a memory that will last for a lifetime.
Rail Travel Across France and Beyond
Paris acts as a hub to many other countries in Europe via rail service. From here, anyone can book longer excursions to places like London, Milan, Amsterdam, Brussels, and Barcelona. In fact, Paris to London is just over two hours via high-speed train, allowing you to enjoy breakfast in France, and then lunch in London, England. Use Paris as a hub to begin your adventures and then explore other parts of this great continent.
Should you wish to be more focused in your exploration of Europe and only want to see specific countries, booking separate tickets for each trip is likely much more affordable than a complete cross-European rail pass. Take France, for example; with most of the country accessible by rail, a single ticket allows you to get where you need to go for a fraction of an entire European rail pass.
Consider starting in Paris, and heading to Côte d'Azur, better known as the French Riviera. This destination has inspired the likes of Picasso with its stunning colors and sunshine that are sure to impress anyone. From here you can enjoy the beaches of Nice or explore the mountains of Saint-Paul-de-Vence. Each of these locations has a train station and access to the Nice airport.
The French Alps are a perfect option for those who love cooler weather, offering ski and snowboard activities accessible from the Bourg Saint Maurice train station. Other notable mentions include the cities of Bordeaux and Lyon, which provide French culture at a slower pace compared to Paris.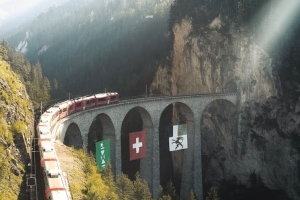 Safe Rail Travel Across Europe with CAP, Powered By FocusPoint International
For your next rail adventure across Europe, consider taking every precaution necessary to ensure your trip goes smoothly. The nature of travel continues to be unpredictable, and leisure travelers would be wise to take extra precautions and purchase products that address what is commonly overlooked by
travel insurance
.
FocusPoint International's
CAP Travel Medical and Security Assistance Plan
comes with a robust mobile app that includes destination-based health, safety, and security intelligence, COVID-19 specific information, a one-touch assistance button, and much more.
The CAP Plan offers unlimited 24/7 advice for a long list of travel mishaps often overlooked by traditional travel insurance, including
COVID quarantine cost coverage
. It also provides a fully-funded response to incidents of riots, strikes, civil commotion, and natural disasters, with medical evacuation to a home hospital of choice, should you suffer from a medical mishap resulting in hospitalization.
Contact us directly to learn more about available offerings that speak to North Americans heading to Europe this travel season.